Legal Aid Ontario's Domestic Violence Strategy aims to strengthen the capacity of lawyers, frontline workers and management to better serve clients who have experienced domestic violence.
Michelle Squires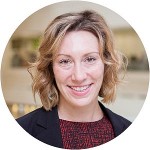 Michelle Squires is policy counsel working in Policy and Strategic Research Department at Legal Aid Ontario, leading the development of the Domestic Violence Strategy, which aims to increase access to justice for clients experiencing domestic violence by providing more integrated services guided by an understanding of client needs.
Michelle graduated from the Schulich School of Law at Dalhousie University in 2012 and completed her articles with LAO's Clinic Resource Office and ARCH Disability Law Centre.
Since stepping into her role in Policy, Michelle has actively worked with the Violence Against Women community to strengthen LAO's working relationship with shelters and advocacy groups. She is working in partnership with Luke's Place to develop and deliver a training program for LAO staff working with clients experiencing domestic violence.
Michelle is also an associate member of the Women Abuse Council of Toronto and frequently invited to speak by community and legal groups.